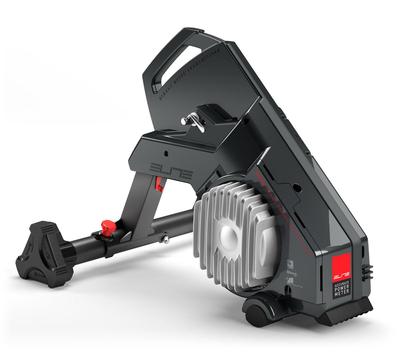 Description
Elite Kura Smart Trainer
Kura
Accurate power measurement ± 1%
Direct Transmission Smart (not interactive) hometrainer.
Integrated power measurement for unprecedented watts accuracy (± 1%).
Double wireless communication protocol ANT+ and Bluetooth Smart.
High-rotation speed internal flywheel for great pedalling roundness, as you'd have on the road.
High power output: ideal for cadence, power and sprint-based training sessions.
ELITE KURA DIRECT DRIVE SMART B FLUID TRAINER WITH POWER METER
Get serious about your turbo training with the Elite Kura Direct Drive Smart B Fluid Trainer With Power Meter. The most accurate turbo trainer on the market, the Kura utilises the Integrated Optical Torque System (OTS) power meter to accurately measure your power output with less that a 1% margin of error.
Elite test and calibrate all of the Kuras before they are shipped using the Lonrenz industrial torque meter. Once calibrated the Kura is fully ready to go and only requires the occasional firmware update. No more returning the turbo trainer for recalibration.
Resistance is controlled by a smooth and quite fluid resistance movement so no more struggling to maintain a conversation over a loud turbo trainer. With this super-powerful resistance unit, the faster you go the harder it gets. All you have to do is change gears as you would normally out on the road.
Talking of gearing, the Elite Kura Direct Drive Smart B Fluid Trainer comes complete with a 9, 10 and 11-speed compatible Shimano/SRAM freewheel so all you have to do is attach your cassette and you are ready to go. The Kura is also compatible with 130 and 135mm QR skewers and 142x12 thru axles.
The 4.5kg internal flywheel is geared for high cadence pedalling, helping to generate a far smoother feel than conventional flywheels.
Modern indoor training requires your turbo trainer to be connected to your smart devices. Thankfully the Kura is, with Bluetooth+ and ANT+ connectivity built in. The Kura includes a free lifetime subscription to Elite's MY Etraining app and is compatible with a wide range of other third party apps like Zwift, Trainer Road, Training Peaks and Strava.
To learn more about integrating your turbo trainer with Zwift please see our comprehensive guide.
Take the Kura on the road or to race day with ease as, thanks to its internal generator, it does not need to be plugged in for power. The Kura also folds away neatly for easy storage.
Please note: Does not come with QR skewer.
Delivery & Returns
Delivery:
We dispatch items Monday to Friday. Please order by 4pm for your order to be dispatched same-day. We offer a next-day delivery service including Saturday delivery (extra charge). Please refer to our full Delivery Information page for further details.
Returns:
We provide an excellent no-quibble returuns policy which our customers love. Should you need to return an item, we make it easy for you and the process is quick. Please refer to our full Returns Policy for further details.